Advertising Prices
The Innisfail home page has become a popular local web page, and is becoming a worth while advertising option for many businesses is the Innisfail area. With over 589,000 hits since 1996, your ad can be seen by an average of 1,500 people per week from mostly local users who have it set as their default homepage.
Innisfail home page is offering 3 different advertising options, each with different commercial values. To find the best suited option for you, please click on the circled areas.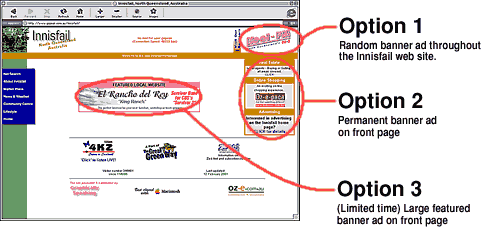 We reserve the right to refuse any advertising that we deem to be offensive, unfair or misleading.
All prices include artwork
Option 1:
Position:
Small random banner ad at the top right of all Innisfail pages.
These ads are ramdomly displayed from a list of ads whenever the pages are entered.
Cost:
$250 +GST per year
Option 2:
Position:
Small banner ad on the right of the Innisfail homepage.
Cost:
$250 +GST for one month,
$450 +GST for 6 months
or $600 +GST per year.
Option 3:
Position:
Large major banner ad in the middle of the Innisfail front page
Cost:
$450 +GST for one month.

For more Information, please click here to contact us.
We will reply promptly.